I first came to Bodhgaya in 2004 to see His Holiness Karmapa and to request prayers for my mother who had just died.
As I spent time at the Mahabodhi Stupa I made friends with a dog suffering from a very bad skin condition who had six puppies. I named her Honey.
Through research on the internet I learned about mange, a skin disease caused by mites, and its treatment. I started to treat Honey with mange tablets. I was so impressed with the results that I started to treat other dogs at the stupa and also around town. This is how Dogs Of Gaya started.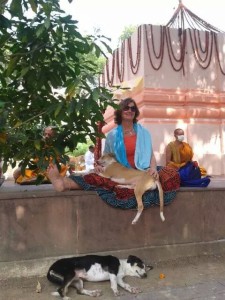 It was tough at first because I saw some horrible conditions, and local people didn't understand what I was doing. Although at first I didn't have any support from anyone, I didn't give up.
Now the local people see the dogs are happy and playful, and they see the loving relationship I have with the dogs. They have a growing respect and understanding for the work of Dogs Of Gaya, and their own relationship with the street dogs is changing for the better.
I have known most of the dogs in Bodhgaya since they were born. The general health of the population of street dogs in Bodhgaya has improved. The condition of their skin is better, (they have fur!) and they are human-friendly.
Through experience I have learnt how to treat them for common street ailments. When I come across dogs with more serious ailments I take them to Maitri Charitable Trust just outside of town.
When my precious dog, Princess, got Transmissible Venereal Tumour (TVT) in 2013, I was horrified and was searching for help. Luckily there was a vet, Dr Catherine Schuetze, in town who knew what the condition was and had time to help.
We set up our first animal camp by raising the money in the streets. We raised enough money to rent an entire guest house and turn it into a dog hospital for a few days.
Princess needed to be sterilised and have 3 weeks of chemotherapy treatment.
This first animal camp was very successful. We sterilised several dogs and Princess recovered fully. However, TVT was spreading very fast throughout the Bodhgaya dog community, and I became very worried about the health of the other dogs.
We decided to ask His Holiness Karmapa if he would be able to help us so we could continue in the future. He agreed, and since then the Kagyu Monlam Animal Health Camp runs successfully every year with great results for all animals.
I first met Dr Diki Palmu from the team of SARAH (Sikkim Anti-Rabies and Animal Health) when she came to help in the first animal camp that we held in the guest house and, as a result, got the opportunity to go to Sikkim to train as a paraveterinary worker with the SARAH team who came to the camp.